Leaders in Liquid Bulk Packaging
The nation's one stop source for liquid bulk packaging!
One way disposable liquid packaging with over 30 YEARS EXPERIENCE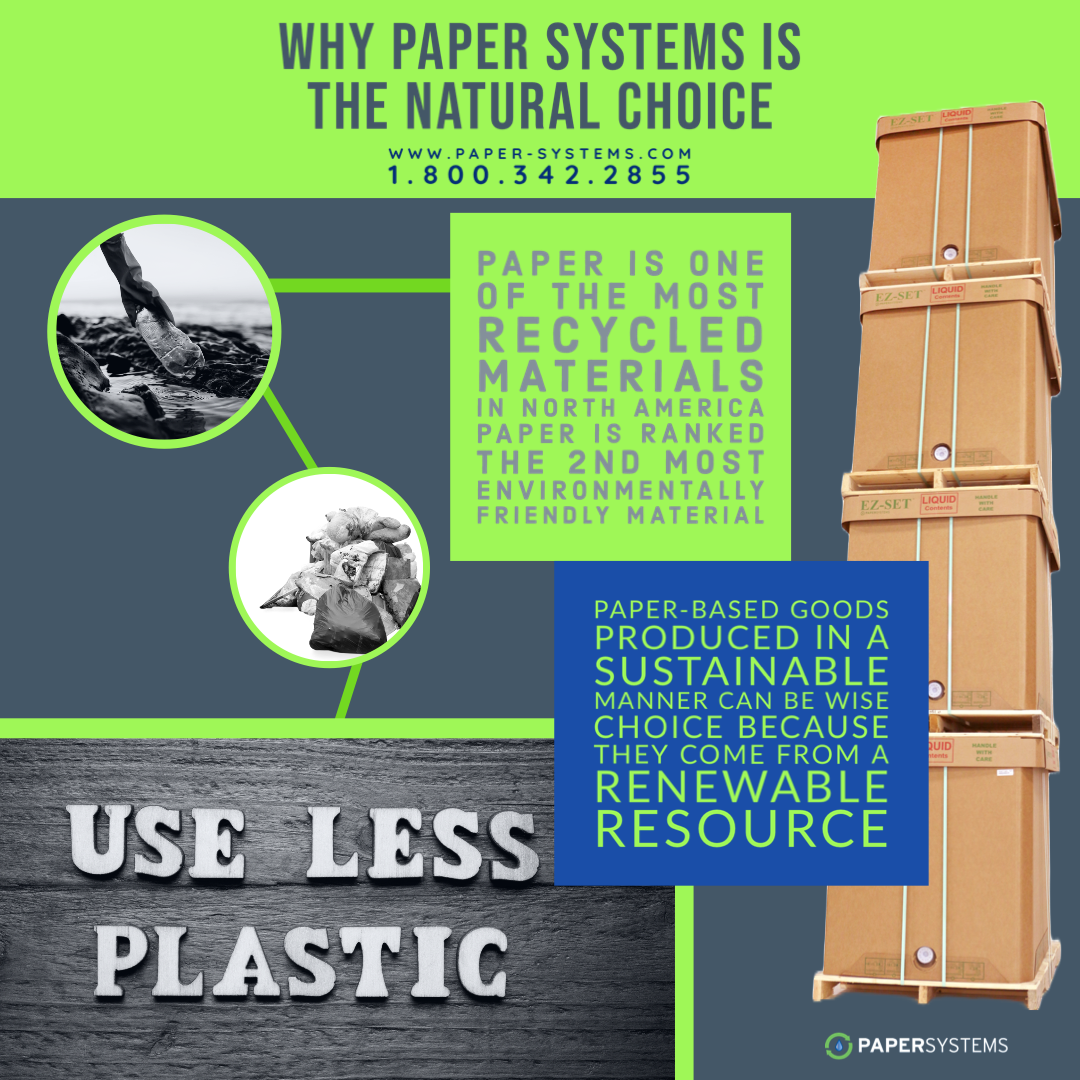 Paper Systems is a privately held and minority-owned company that was founded with the cornerstones of customer service and quality as the foundation of success in all aspects of liquid bulk container systems.
Find out more through our corporate video at the link is shown here: Paper Systems corporate overview
Constant innovation to create unique intermediate bulk packaging solutions.
Paper Systems is committed to following the standards set by the BRC Standard under the Global Food Safety Initiative. Paper Systems follows "Good Manufacturing Practices" to help achieve a food-safe environment for all of our IBC bulk packaging products.
Paper Systems is dedicated to quality liquid intermediate bulk container products and service focused to exceed customer expectations.
By utilizing readily available wind energy, which is abundantly available here in Iowa, Paper Systems continues our relationship in sourcing electrical needs from Mid American Energy and makes additional attempts to move away from using fossil fuels for electrical needs. Additionally, all corrugated debris is bailled, recycled, and reused thanks to long-standing collaborations with neighborhood recycling services, ensuring that Paper Systems' corrugated waste is entirely recycled as we work to achieve zero waste as a business. Our raw material suppliers for the poly bag liner film use solar energy to meet their electrical demands, therefore the solar panels produce about 510,000 kilowatt hours annually. This 510,000 kWh equates to a 352 metric ton reduction in the amount of CO2 that is not emitted into the atmosphere.
Global Food Safety Initiative / British Retail Consortium
Paper Systems is GFSI / BRC certified achieving an "A" rating from a third-party auditor which is the highest rating possible. The Global Food Safety Initiative quality program exceeds ISO 9001:2008 with the additional food safety standard requirement. Paper Systems became GFSI / BRC certified in the fall of 2015. The Global Food Safety Initiative is Paper Systems' commitment to food safety and quality for all food applications and this certification is unmatched in the IBC container markets of either returnable IBC's or disposable intermediate bulk containers as Paper Systems was the first to achieve GFSI certification. This global food safety and quality standard ties in with the BRC Global Standard so no matter where your company ships your products domestically or abroad, you are insured Paper Systems' products have the highest food safety standards in place. Within the GFSI food safety approval, Paper Systems only uses Interstate Milk Shipper (IMS) dairy and Kosher certified bag liners which are manufactured from FDA-approved resins and films to meet the most stringent customer requirements.
Paper Systems is the liquid packaging company of choice for processors of non-hazardous liquids domestically and internationally. Our liquid packaging containers can solve a variety of issues facing shippers in today's marketplace and gain a competitive edge while growing market share.
About Paper Systems
Based in America's heartland, Paper Systems, Inc., has been manufacturing EZ-BULK products for over 30 years to meet liquid bulk solutions for industrial users. We listen to our customers and use their input to continually innovate our product line.
The EZ-BULK liquid tote system uses fewer raw materials in its design, so right away our costs are lower. The light tare weight of our disposable liquid containers allows more product to be shipped per truckload, inbound and outbound, drastically reducing your shipping costs. And since our liquid bulk solutions are recyclable and disposable, return freight costs are completely eliminated.
We like to think differently at Paper Systems. We like to create partnerships, not supplier/buyer relationships. We want to work with you to find the best solutions for your needs. And we don't just think paper. We will use whatever material best suits the liquid bulk container application. Our goal is to think creatively, be innovative, and find solutions.
Because of our customer-first philosophy, we've become a trusted resource in the liquid bulk packaging industry. If you have questions or need special applications, we'll work with you to find solutions person to person.
Business Principals
Paper Systems' team Members are treated respectfully and provided with an opportunity to pursue intellectual and career growth in an organized, safe, and healthy work environment.
Paper Systems' customers are supplied with quality products in response to their needs. Paper Systems, Inc. conducts business openly and honestly to achieve the highest possible level of customer satisfaction.
Paper Systems' actions stress planning and attention to detail. Success is measured by results, not effort or intention. The highest level of personal and professional integrity is maintained at all times. Our commitments are met without exception.
Paper Systems follows "best practice" when it comes to hiring and follows all applicable local, state, and federal laws.
That's the way we do it at Paper Systems, Inc.